Our Vision
Making a difference in the lives of Tennessee public entity employees and the citizens they serve.
Our Mission
We partner with Tennessee governmental entities in providing effective risk management products and services with a commitment to member best interest.
Our Values
Service, Integrity, Stewardship, Inclusiveness, Quality
Who are we?
Public Entity Partners is a not-for-profit governmental risk pool serving approximately 500 governmental entities across the State of Tennessee. We provide liability, property, and workers' compensation coverages, along with comprehensive risk management programs and services - with a commitment to member best interests.
2022 Annual Report - Preparing for the Future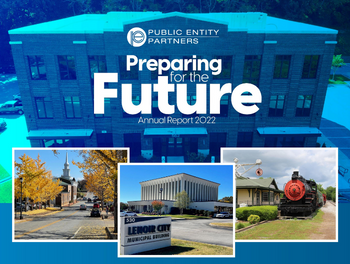 2021 Annual Report - Making a Difference
2020 Annual Report - Vision & Values
2019 Annual Report - 40th Anniversary
2018 Annual Report - Strength in Numbers
2016/2017 Annual Report - Looking Toward the Future