Message from the President and CEO
Author | Michael Fann
2/9/2023 7:45 am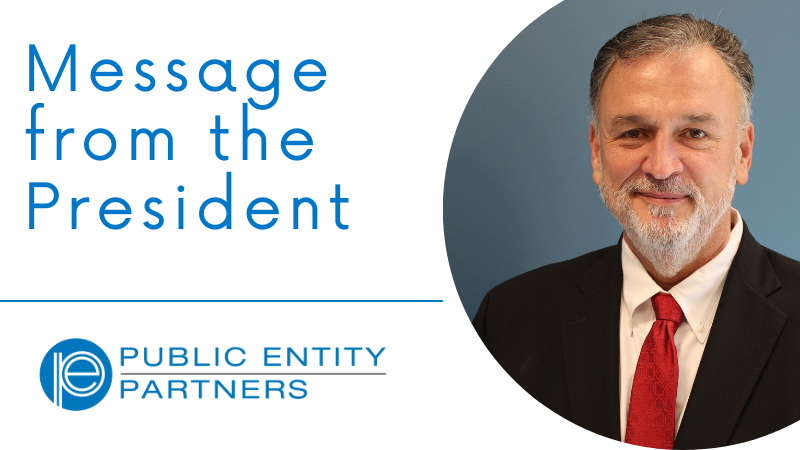 Greetings! I hope that 2023 is off to a good start for each of our members!
As you know, our Board of Directors represents our member partners and provides insight into the governance of Public Entity Partners' operations and steers the direction of our organization. A few years ago, following an extensive planning process with our leadership team, the Board approved a 2021-2023 Strategic Plan that included revised vision and mission statements, core values and organizational values. These components are important as they guide and define the programs we seek to provide to our members in the years to come.
The Board is seeking member feedback on our priorities prior to our February 24 meeting . Your feedback will help us ensure that PEP's strategies continue to align with the needs of our members. During our most recent strategic planning session, the Board reaffirmed our mission and vision, and they will be voted on during the upcoming meeting.
These priorities include:
Organizational Culture and Development

: At PEP, we want to build upon an already great culture by establishing a cultural vision and subsequent implementation plan. We will develop, review and revise policies, processes and practices to reflect the cultural vision for which we are striving. We will use this vision to develop talent and engage in succession planning by hiring employees that best fit within the culture of our organization.

Stakeholder Relations

:

We want to have intentional, programmatic, risk-based and loss-driven engagements with our stakeholders, as well as create relationship-based initiatives to improve our relations with stakeholders. We will continue to work on statewide collaborations in educational programs that benefit both PEP and our stakeholders.

Planning & Project Management

:

As we roll out a new project management plan internally, we'll work to educate all PEP departments on our approach, which will streamline our project management processes. We will focus on communicating results to the board and staff, along with how the projects are aligned with our business objectives and strategic plan.

Communications:

We will work to provide the Board and staff with a member analysis, with an emphasis on member types, including new business goals. We will also work to communicate our story, competitive advantage and products and services to our members and our staff. Finally, our leadership team will clearly identify what should be shared with our staff and provide high-level business overviews during all staff meetings.

Service to Members:

As always, the relationships we have with our members are paramount, and the products and services PEP provides are tailored to the needs of the membership. W

e will assess our members and member types, along with their needs and financial impact, to make recommendations for new business

. We will work to emphasize fairness, equity and consistency as the number one priority

for the membership

and ensure that our members understand the timeline change (premium, pricing, policy)

to

be implemented. We will also have a formal departmental list of issues for addressing to better assist our members with questions or concerns.
We hope you will take a few moments during the next week or two to share your comments about these priorities, ask any questions you may have, or recommend any changes. Your input is valuable to us and helps us provide the best products, services, programs and tools to assist you as you serve your communities and citizens.
Please send your feedback or questions to Carly Thomas, communications and research manager, at CThomas@PEpartners.org.