Message From the President - Rate Changes
Author | Michael Fann
4/19/2023 10:30 am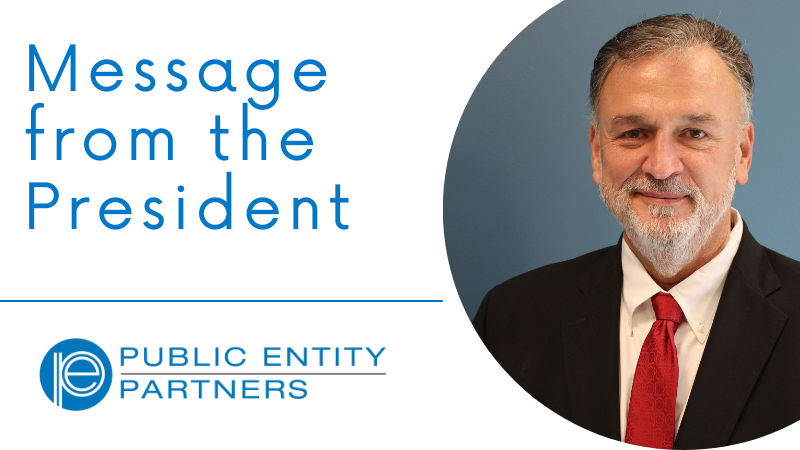 At the end of February, our Board of Directors met to consider rates, coverages and dividends for the upcoming fiscal year. As part of this important evaluation, Public Entity Partners engages independent actuaries to conduct a detailed rate review and capital adequacy study. We conduct a rate study every other year and a capital adequacy study every three to five years. These reviews ensure that our rates are adequate to cover claims and that our pool can withstand a catastrophic loss, allowing us to be there for our members for years to come.
The board of directors approved the following base rate changes for policies renewing on or after July 1, 2023:
Workers' Compensation No Change
Property +8.0%
Liability
General Liability No Change
Errors & Omissions +6.5%
Law Enforcement +14.5%
Auto Liability +12.0%
Auto Physical Damage +14.5%
Combined Liability +9.4%
Combined All Funds +5.8%
The last few years have brought numerous challenges that have negatively impacted the economy overall. While the COVID-19 pandemic played a major role, supply chain issues, inflation, the Russia-Ukraine war and severe weather events, such as flooding, wildfires and storms, have all contributed to increases in construction costs, vehicle shortages and increased labor costs. In addition, the frequency and severity of law enforcement liability claims, as well as employment-related claims, have led to base rate increases. Each of these factors impacts our members, along with the cost of claims.
As you are likely aware, the investment market experienced significant fluctuations during 2022. Our Board of Directors has regularly implemented conservative policies to provide as much stability and consistency in pricing as possible. As part of that conservative approach, the Board has made the decision not to declare a dividend for FY-23/24. Since 1996, PE Partners has distributed nearly $135 million in dividends directly to members. The Board evaluates dividend declarations each year and will again consider a dividend declaration in early 2024.
All of us at PE Partners are strongly committed to providing our members with the most effective risk management products and services for helping you serve your employees and citizens. We take your trust in us seriously, and thank you for your partnership as we work together to protect your properties, reduce liability losses and keep your employees free from injury.
If anyone from our team can assist you, please let us know.