Partnering for Success Webinars Continue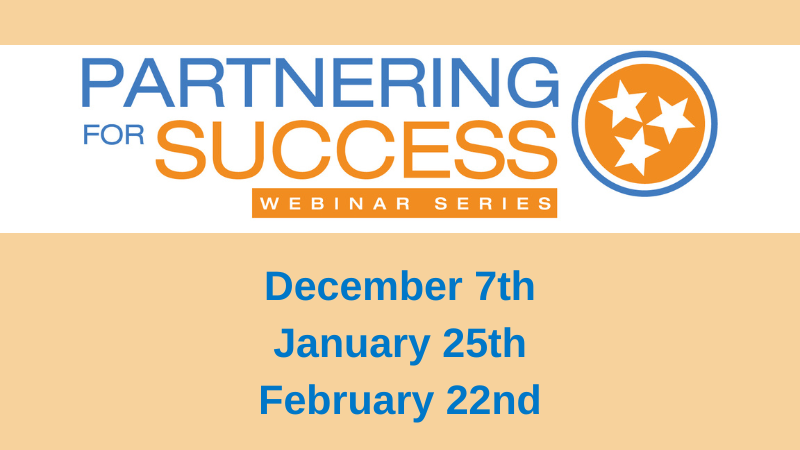 Public Entity Partners' annual Partnering for Success Webinar Series is designed to increase knowledge of current risk management exposures and provide helpful information on topics that are important for public entities. These webinars are free for PE Partners members.
Previous webinars have covered the Tennessee Drug Free Workplace Program, building a risk management culture with leadership and buy-in, overcoming cyber challenges for municipalities, the leading loss drivers for vehicular accidents and auto liability claims, workers' compensation return-to-work programs, managing sewer backup and overflow claims, understanding the basics of underwriting and liability for elected officials.
The 2022-2023 series launched in October and continued in November with Working with Media, which offered guidance on the art of media relations and the importance of properly presenting your organization. This webinar was presented by representatives at Corporate Image public relations and media firm in Bristol, Tennessee.
The December 7 webinar, Public Records, will cover basic information regarding compliance with the Tennessee Public Records Act (TPRA) and responding to public records requests pursuant to the TPRA. This session will be presented by Patrick Morrison, attorney at Nashville-based Farrar & Bates, LLP.
Engaging Employees through Performance Management will be the topic for the January 25, 2023, webinar. Presented by Sarah Curtis, loss control training specialist at PE Partners, this session will break down the employee performance management process into simple, easy-to-follow steps for creating an engaged and productive team.
On February 7, 2023, a session on professional and proven hiring practices will be presented by John Grubbs, human resources consultant with the University of Tennessee Municipal Technical Advisory Service. Because well-designed and lawful hiring practices are critical for selecting the right person for the job, as well as for reducing exposure to employment practices liability, this webinar will focus on several foundational points for the hiring and selection process.
All upcoming webinars will be held at 1 p.m. Central time / 2 p.m. Eastern time. To register for a webinar, visit the PE Partners website at pepartners.org. For additional information, contact Heather Hughes, communications & research specialist, at Hhughes@PEPartners.org or by calling 615.371.6006.