PEP Announces New Underwriting Staff
Author | Heather Hughes
3/9/2023 7:15 am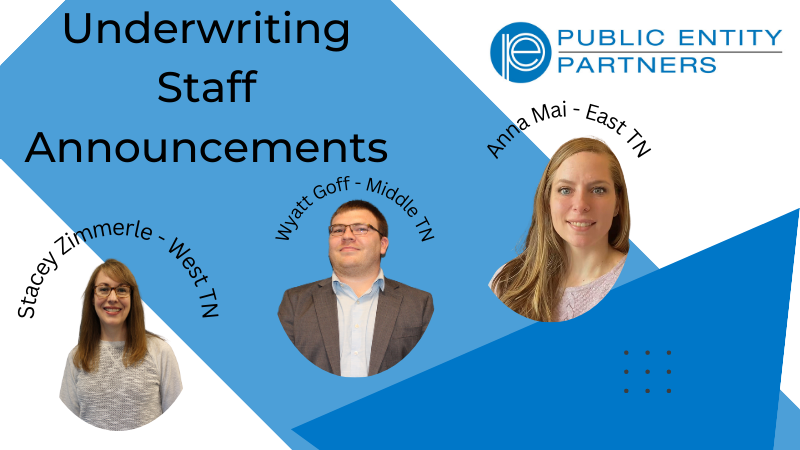 Public Entity Partners is excited to announce staff changes in our Underwriting Department. Our members will be working with a new group of underwriters with their next renewal.
Representing West Tennessee is Stacey Zimmerle, a native Tennessean with a degree in public administration from MTSU and a passion for public service. Zimmerle has more than a decade of experience in the health insurance field, including plan design, tailoring plans to meet customer needs and underwriting.
"I am thrilled to bring my underwriting skills to the service of municipalities," Zimmerle said. "I look forward to learning each member's unique needs and partnering with them to achieve their insurance goals."
In Middle Tennessee, members will be working with Wyatt Goff, a resident of Murfreesboro. A graduate of Middle Tennessee State University, Goff's degree in mathematics and experience in mortgage underwriting have enabled him to develop a strong capacity for identifying and analyzing areas of risk.
"I look forward to helping the citizens of Tennessee and their communities thrive by providing exceptional service to our public employees and their constituents," Goff said.
Serving East Tennessee is Anna Mai, a veteran of PEP's Underwriting Department. She previously served as an underwriting clerk and, most recently, as an associate underwriter, where she handled small to mid-size public entities across the state. She also handled certificates of insurance, workers' compensation audit analyses and property valuations.
"As a former city recorder for the City of Shelbyville, I understand the struggles municipalities face in obtaining proper coverages," Mai said. "I look forward to applying my unique understanding, skillset and experience to serve the members of East Tennessee."
PEP tailors its insurance programs to the unique exposures and loss control experiences of our members. The Underwriting Department is responsible for writing the coverages members depend on, as well as fairly and consistently pricing each policy. Should you have questions regarding our policy and coverage options, please contact your regional underwriter.