PEP Board of Directors Selects New Member
Author | Heather Hughes
10/10/2022 8:00 am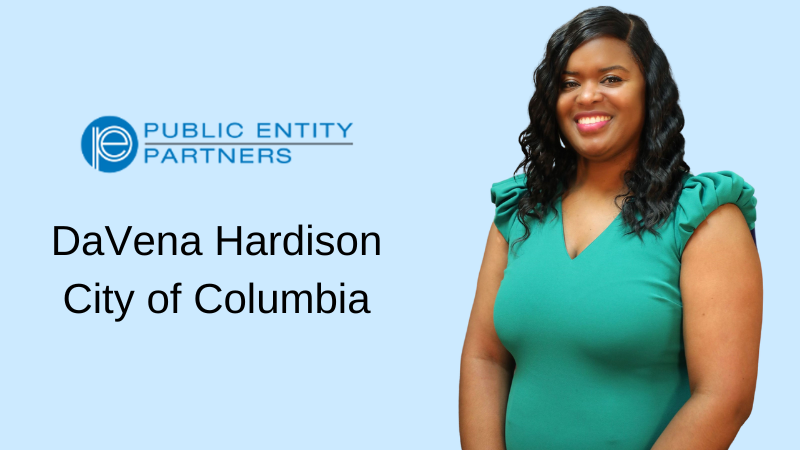 Public Entity Partners welcomes DaVena Hardison, Councilmember with the City of Columbia, as the newest member of our Board of Directors. She was elected to this position in 2020.
A Columbia native, Hardison has a passion for serving, educating and encouraging her community, and desires to implement positive change in the city through increased job opportunities, higher school rankings, thriving small businesses and beautification throughout all areas of the city.
Hardison will fill the remainder of Dr. Christa Martin's current term, which expires in August of 2024. Dr. Martin, who has served on PE Partners' Board of Directors since 2019, is looking forward to retirement and spending more time with her husband, Willard F. Martin. She has always been passionate about her community and nurturing the next generation of leaders. She served as a Columbia Councilmember from 1992 until 2014, when she was elected to her current position as vice mayor. This achievement was especially significant as she was the first African American to be elected vice mayor of Columbia.
PE Partners' Board of Directors met on September 30th to appoint a new member from the pool of nominees for Dr. Martin's vacant seat. Nominations were accepted from August 2nd through September 9th, and advertised on Public Entity Partners' website, in our newsletter, and on LinkedIn. Informational flyers were also provided at the TML Conference and the Risk & Insurance Symposium.
During the September board meeting, the Board also welcomed Mayor Bobby King of the City of Henderson, who will fill the one-year term for the Tennessee Municipal League President. Mayor Ken Moore of Franklin previously held the position.
PE Partners' bylaws state that the Board of Directors shall consist of "eight directors, each of whom shall be an elected official, city manager or city administrator of a municipal government which is located in the State of Tennessee and has active insurance coverage with Public Entity Partners."
Public Entity Partners extends our sincere appreciation to Dr. Christa Martin for her years of service on the Board of Directors and to Mayor Moore for his service, and also welcomes Councilmember Hardison and Mayor King to the Board.