PEP Honors Lifetime Achievement
Author | Carly Salah
9/14/2023 7:15 am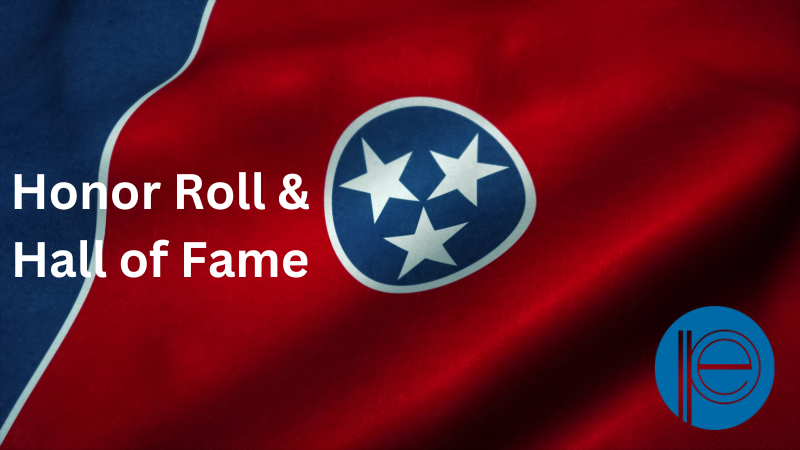 Public Entity Partners honored several individuals with two new awards for a lifetime of achievement and excellence in service to the cities, towns, local agencies and taxpayers of Tennessee.
Tennessee Public Risk Management Honor Roll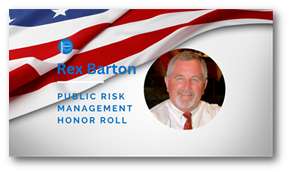 Rex Barton, Police Management Consultant, UT-MTAS (retired)
After a distinguished career in law enforcement with the Athens (Tennessee) Police Department, Rex began a vital role as the very first Police Management Consultant for UT-MTAS (University of Tennessee Municipal Technical Advisory Service), a role to which he was dedicated for more than 28 years. Although Rex is now officially retired, he continues to provide part-time consultation services.
The MTAS Police Management Consultants represent a critical element of PEP's partnership with MTAS. The contributions by Rex and other consultants during the last 28 years has been vital to police risk management, the professionalism of the police discipline and successes in law enforcement that we enjoy in Tennessee today.
Public Risk Management Hall of Fame
PEP awarded the first two Hall of Fame inductees posthumously. These two individuals played a critical role in the formation of what is now Public Entity Partners and its operation in the early formative years.
The two posthumous inductees to the Public Risk Management Hall of Fame are: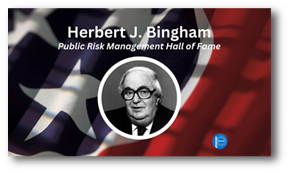 Herbert J. Bingham, Executive Director, Tennessee Municipal League (TML), 1946-1982
At the end of World War II, 29-year-old Herb Bingham was named the new Executive Director of the somewhat reconstituted Tennessee Municipal League. Among his many early accomplishments was his effort to create a technical advisory and assistance service for cities and towns in 1948-49 — the Municipal Technical Advisory Service (MTAS), a vital agency within the University of Tennessee's Institute for Public Service.
Many years later, following the passage of the Tennessee Governmental Tort Liability Act in 1973 and a hardening liability market throughout the country, Mr. Bingham led the research and helped ensure the feasibility of a risk-sharing liability insurance pool for Tennessee's cities, towns and local service agencies. After securing authorizing legislation for governmental pooling in Tennessee, he oversaw the formation of the TML Insurance Pool in October 1979, when the cities of Athens and Hendersonville signed the very first interlocal agreement to share in their risks.
From that humble beginning, the insurance pool (later renamed the TML Risk Management Pool and now known as Public Entity Partners) grew to add workers' compensation coverage in 1981 and property coverage in 1989. Today, PEP's membership includes approximately 500 cities, towns and local service agencies.
Shortly before he passed away in 1994, Mr. Bingham spoke about PEP's early days: "Our pool is fast becoming one of the most successful local government enterprises in the country, and in the years to come, there are going to be a lot of people who want to take credit for its formation. Never let them forget that it was Herb Bingham who founded that pool."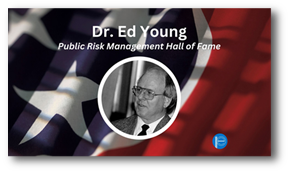 Dr. Ed M. Young, Deputy Director of the Tennessee Municipal League (TML), 1974-1998
Along with Herb Bingham, Dr. Ed Young was truly a giant of public policy analysis and municipal advocacy. He worked alongside Mr. Bingham in examining the feasibility of pooling in Tennessee and advocating for the passage of the legislation to authorize governmental pools in Tennessee. He is still the only non-city manager to be recognized by the Tennessee City Management Association for his distinguished service.
Most significantly in the history of risk management in Tennessee, Dr. Young essentially served as The Pool's (now known as PEP) first operational manager. Legend has it that, for the first 18 months of The Pool's existence, the organization was managed "out of a shoebox in Ed Young's lower right desk drawer." Dr. Young passed away in 2019 at the age of 79.
Our two additional Public Risk Management Hall of Fame inductees are: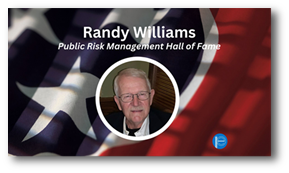 Thomas Randall "Randy" Williams, Director of Client Services (retired), The Pool/PEP
Randy Williams' more than 40-year career serving the taxpayers of Tennessee began in building and codes for the City of Paris, Tennessee. His service in that department helped propel him to the office of City Manager, when he also served on one of the earliest boards of directors for what is now Public Entity Partners.
Randy also served as a Municipal Management Consultant with MTAS for a number of years, including a stint as acting Executive Director. He then joined The Pool (PEP) when he was asked to take on a significant client services role as an advocate and ombudsman for the organization's members. This role subsequently led to his appointment as Director of Client Services to help build relationships with cities, towns and local service agencies across the state. During his time with The Pool, Randy also served as Acting Deputy Director for TML.
Randy's many contributions to PEP's success include two things he frequently said that have become part of our operational mantra. The first is: "Understand that you don't know what you don't know." The second, in the context of how to address significant risk exposures faced by municipalities, is: "The only folks that can truly be responsible for us is us."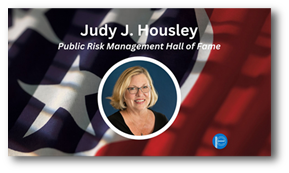 Judy Jones Housley, Loss Control Consultant (or better known as The Risk Queen), The Pool/PEP
With a 40-year career serving the taxpayers of Tennessee, Judy Housley is simply a "public servant's public servant." In a loss control position that, on the surface, works with approximately 160 cities, towns and local service agencies in East Tennessee, Judy has made a significant impact. Her guidance and support have gone beyond East Tennessee to also help the approximately 500 municipalities and local service agencies PEP works with statewide.
In addition, through our work and affiliation with national organizations such as the National League of Cities Risk Information Sharing Consortium (RISC) programs and the Public Risk Management Association (PRIMA), Judy has made a tremendous impact on the national public risk discipline. Her many accolades through the years include the John G. Stutz Award from the National League of Cities, the Distinguished Service Award from the Tennessee PRIMA and the Southeast Loss Control Group's Distinguished Service Award.
Judy's diligent work with PEP over the past 37 years has made cities safer, prevented untold numbers of accidents and injuries, and helped protect city property. She has also helped prevent on-the-job fatalities, and there are children and grandchildren alive today who might have never been born without her efforts.
PEP is proud to honor this inaugural class and looks forward to honoring their service for years to come.