Message from the President - October 2020
Author | Michael G. Fann
10/9/2020 8:00 am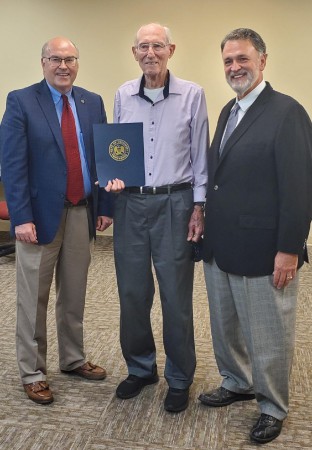 While the month of October brings an end to our 40th anniversary year, it also marks the beginning of the next 40 years of serving our membership.

Last night our director of member services, Callie Westerfield, and I had the privilege of attending the City of Columbia's council meeting where Mayor Chaz Molder, Vice-Mayor Dr. Christa Martin, and City Manager Tony Massey accepted a recognition award for 40 years of membership with Public Entity Partners. Barrett Jones, the first Chairman of Public Entity Partners, then called the TML Insurance Pool, was also in attendance to receive the recognition award. Our organization is grateful for the opportunity to partner with and serve our members and continues to look for ways to strengthen that partnership.
Pictured left: Mayor Chaz Molder, City Manager Tony Massey, Vice Mayor Dr. Christa Martin, and the rest of the Columbia City Council present retired city manager Barrett Jones, who served Columbia from 1971-1986, with a proclamation declaring 8 October 2020 to be "Barrett Jones Day" in Columbia. In addition to serving Columbia, Jones was a "founding father" of Public Entity Partners 40 years ago, then called the TML Insurance Pool, serving on its very first Board of Directors as Chairman of the Board. Columbia's partnership with PE Partners continues today with Vice Mayor Martin serving on the Board of Directors.
You may have noticed a fresh look to our website, along with changes to our online claim forms and DVD library. We continue to work to improve the user experience for our website and the various online tools we offer to members. If you have questions about our website, or any of the programs or services we offer to members, I encourage you to reach out to our member services team.

October is National Cybersecurity Awareness Month. Local governments are a frequent target of cyber criminals for a variety of reasons. If you have not viewed the recently released Cyber Aware session from the Partnering for Success webinar series, we encourage you to do so. This session was led by Jim Arnette from the Comptroller's Office. Earlier this year, the Comptroller's Office launched a Cyber Aware program to educate and inform local government employees about cybersecurity. The on-demand webinar shares information about the threat of cybercriminals to local governments and what you can do to protect your organization.

In addition to National Cyber Security Awareness Month, Public Entity Partners is working with the Tennessee Association of Chiefs of Police (TACP) to support important training regarding law enforcement use of force. On October 14 - 16, TACP is hosting their annual training conference for law enforcement, which will focus on use-of-force policies and training, de-escalation, crowd and community interaction, and the First Amendment. We are honored to provide the training sponsorship for this conference.

Last month, we shared the top five reasons you should choose Public Entity Partners as your risk management partner. We think it bears repeating that your experience with our team is the top reason to make us your partner, but one program you should also check out is our Grant & Scholarships program. The Property Conservation Matching Grant program is now accepting applications.

All October news content, can be found on our website, including:
National Cyber Security Awareness Month
Middle Tennessee Excellence in Risk Management Award Winner
Meet our new team member — Debbie Yeager
TACP Conference on Use of Force
DVD Library Changes
Stay Safe!


Michael G. Fann