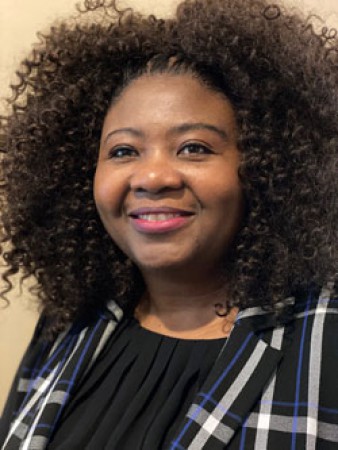 Meet Celeste Taylor
Celeste Taylor has been serving PE Partners' members for more than seven years as a member services representative. While she served the West Tennessee region, she is known throughout the state as an expert in human resources, as well as an advocate for quality and efficiency in local government.
On July 1, 2020, Celeste will transition to the PE Partners' loss control department to fill the employment practices liability (EPL) consultant position. In this new role, Celeste will assist PE Partners members in identifying and controlling employment liability risks, and work with the loss control department to develop and implement employment risk control tools.
Celeste began her career within the Police Department at the City of Martin as a dispatcher, working her way to communications supervisor, then transitioning to City Hall as the purchase order clerk.
At the recommendation of Paul Chambliss, the West Tennessee casualty loss control consultant for PE Partners, Mayor Randy Brundige, designated a human resources role within the City of Martin to ensure that employment matters are handled fairly and equitably, and to ensure compliance with applicable state and federal rules and regulations related to personnel. This was the beginning of her career within human resources.
"I first met Celeste when I conducted a survey for the City of Martin," Chambliss said. "It was clear that she was very easy to talk to, accommodating and eager to learn. She has great interpersonal skills. When she began working in human resources, she worked to increase training for the city and was a staunch advocate of professionalism. She brings so much to the table with her experience, education and personality."
It is no secret that employment-related claims are a growing exposure area for local governments. PE Partners has been committed to providing resources to local governments for many years, and Celeste's new role also demonstrates that commitment.
"It's been my privilege for many years to observe the expertise and contributions that Celeste Taylor has made to local governments in Tennessee; first with the City of Martin, then with TPMA-HR, and then for the past seven-plus years serving our members in West Tennessee as our regional member services representative," said Michael Fann, vice president of risk services for PE Partners. "Her understanding of the way municipal government works, coupled with her immense knowledge of the human resources discipline, makes her the perfect fit for this new position. She's simply one of the best there is, and now PE Partners' members across the state will receive the benefit of her assistance."
Celeste has a bachelor's degree in business administration and a master's degree in conflict resolution and mediation from Bethel University. In addition to being active in her local community, she previously served as vice president of the Tennessee Personnel Management Association (TPMA).
When asked about her new role, Celeste said "I am very excited to continue serving our members as PE Partners' EPL consultant. It will be rewarding for me to assist our members in fulfilling their professional obligations to their employees. Identifying and addressing employment liability risk is a key factor in mitigating employee liability claims and holding onto dollars that can be reinvested into local communities."
Celeste brings more than 30 years of local government experience, an understanding of PE Partners' coverages and the needs of our members, and a sincere belief that we succeed when our members succeed. If you have had the pleasure of working with Celeste, you know that she is passionate about the people who make local government work and the services that are provided.
Please join us in welcoming Celeste to her new role.