Welcome Aliyah Turner to Underwriting Staff
Author | Halie Gallik
8/4/2022 7:30 am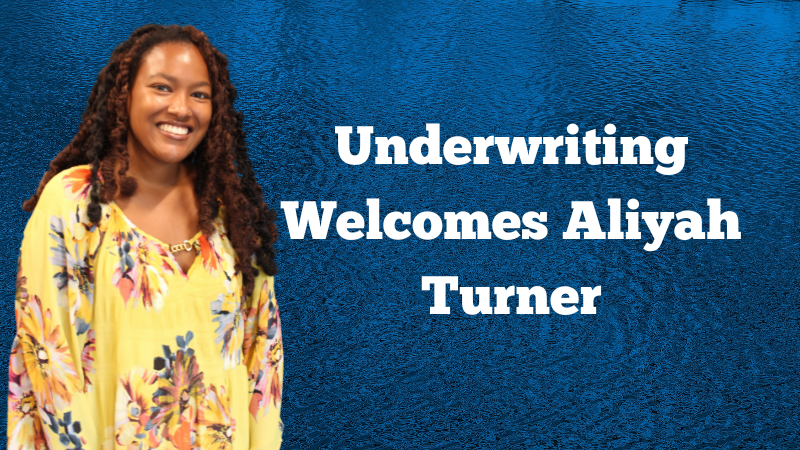 Public Entity Partners' underwriting department welcomes Aliyah Turner as our new underwriter assistant. In her new role, Aliyah is responsible for rating, sending all underwriting applications and processing certificates of insurance requests, as well as facilitating the workers' compensation audit process. Along with each member of our underwriting team, Aliyah also works to answer member questions and concerns.
Aliyah was selected to participate in our inaugural internship program in 2021. PE Partners is committed to ensuring that the next generation of risk management leadership is well-equipped to serve local governments. In support of this goal, the internship program was launched to share public entity and pooling knowledge with risk management and insurance students, providing real-world work experience in our underwriting, loss control and member services departments.
"Finding the next generation of local government pooling and risk management professionals is important to the service Public Entity Partners provides to its members," said George Dalton, executive vice president of Public Entity Partners. "During her internship, Aliyah showed great enthusiasm, an eagerness for learning and willingness to work with each member of the team. We are very lucky to have her as part of our underwriting team."
A native of Murfreesboro, Aliyah is a licensed insurance producer for property/casualty and life and health insurance. Her interest in the insurance industry was inspired by a commercial insurance class during her time at Middle Tennessee State University (MTSU). After graduating magna cum laude with a Bachelor of Arts in Business Administration, she served as an insurance education and support specialist with the Insurers of Tennessee. In this role, she promoted continuing education programs to independent agents, along with programs aimed at recruiting high school students into the field of insurance and risk management.
"During my internship with Public Entity Partners, I had the opportunity to work with our members through the underwriting rating process, and I learned a lot about the services local governments provide across the state," Aliyah said. "In addition, I was able to learn about each of Public Entity Partners' departments. I'm excited to be working with the underwriting team and grateful for the experience my internship provided!"
If you need a certificate of insurance, have questions about your workers' compensation audit or have other underwriting questions, Aliyah may be reached at Aliyahturner@PEPartners.org or 615.373.4791.