Author | Heather Hughes
11/10/2022 12:35 pm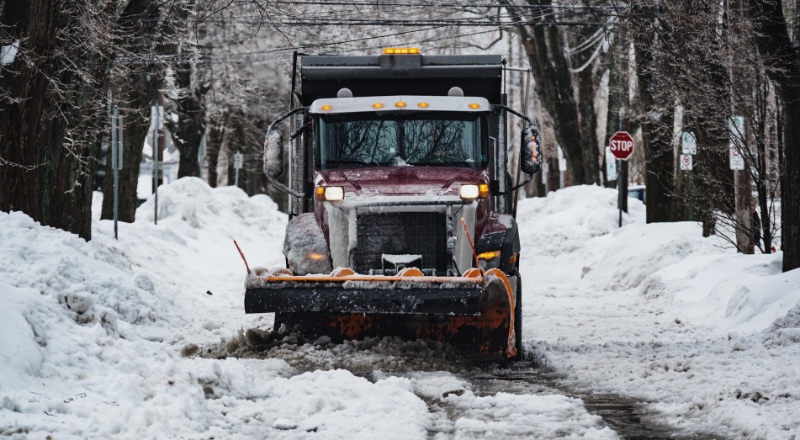 If your job responsibilities include snow and ice removal during the winter months, you could face a variety of safety and health hazards, including:
Slippery conditions that could cause you to fall on icy surfaces or trip over unseen obstacles in your path

Back injuries resulting from shoveling or lifting equipment or heavy bags of de-icing materials

Injuries from snow and ice removal equipment

Hearing loss resulting from repeated exposure to loud equipment

Poor visibility due to bad weather conditions or working at night

Illness from spending long hours outdoors in cold, wet weather
If your entity utilizes salt and sand spreaders, proper safety precautions are imperative. Safe lifting techniques should be used when loading the hopper onto the spreader, and hands should always be kept away from moving parts when making adjustments. You should never use your hands to unclog the hopper or spreader plate on vehicle-mounted spreaders. If you are utilizing walk-behind spreaders, caution should be used when clearing clogs to avoid pinch points and cuts. When using walk-behind spreaders, you MUST be careful when walking on icy surfaces.
Not only should these precautions be taken, but proper personal protective equipment (PPE) needs to be made available and used. When you are performing snow and ice removal duties, you may need different kinds of PPE, depending on the job you are performing. For example, you may need:
Eye protection if you are loading sand and salt into the spreader or using a walk-behind spreader

Hearing protection when using loud equipment

Warm clothing to keep you out of the cold and wet

Work gloves to protect your hands and keep them warm

A reflective safety jacket or vest to keep you visible to plows and other equipment

Waterproof boots with non-slip soles to protect your feet from cold and damp, and to prevent slips and falls

Head protection if you are working in a situation where snow or ice might fall on you, such as under a sloped roof
You also need to keep your head warm by wearing a cap or toboggan. Up to 40% of your body heat can escape when your head is exposed.
Finally, every employee should be taking the proper precautions when driving during snow and ice events. A few simple things to remember when driving in snow and ice include:
Drive at a safe speed for weather and road conditions

Always wear your seatbelt

Watch out for other vehicles and pedestrians, and remember that children love to play and sled on snowy roads

Be especially careful when backing up, and make sure there are no vehicles, people or obstructions behind you before you start to move

Take extra care when driving in the dark, and slow down so that you can see the terrain around you better
Public Entity Partners wants to see every member employee prepare for these hazards in order to stay safe in wintry conditions. Should you have questions about winter weather preparedness, please contact your casualty loss control consultant.