PEP Leadership Changes in Underwriting Department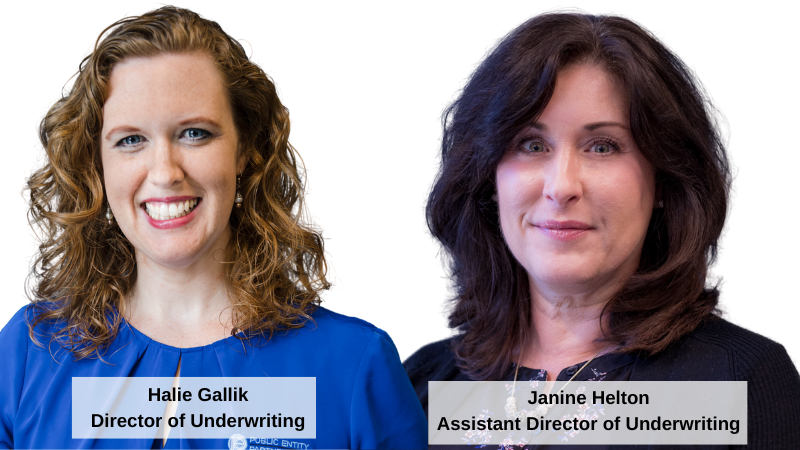 Two Public Entity Partners team members have been promoted to leadership roles within our organization's underwriting department. Halie Gallik was named Director of Underwriting and Janine Helton was named Assistant Director of Underwriting, effective October 1st.
Halie Gallik joined Public Entity Partners in 2009 in the member services department, and has more than a decade of experience working directly with local government members from across the state. She previously served as Member Services Manager and, most recently, as Director of Communications & Research. In her most recent role, Halie focused on mass communications messaging for PE Partners, including information policies and coverages. She also focused on legislative concerns impacting PE Partners, as well as researching the continuously changing challenges faced by local governments in Tennessee.
Halie earned her master's degree in public administration from the University of Tennessee (UT) at Knoxville and is a member of UT's Board of Advisors for the graduate program. She lives in Nolensville, Tennessee with her husband, Michael, and their three children, Will (8), Anna (5) and Charlie (4).
Janine Helton joined the Underwriting Department in 2008. She has served in multiple roles, including Underwriting Assistant and Underwriting Coordinator, and most recently served as Senior Underwriter for the West Tennessee region. As a Senior Underwriter, she managed policies and renewals for more than 133 of PE Partners members, representing $23.4 million dollars in premiums.
In addition to underwriting, Janine specializes in process management for the Underwriting department. She has been instrumental in multiple internal projects, including converting the department to a paperless environment, as well as testing and implementation of the underwriting system.
Janine earned a Bachelor of Arts degree in management and human relations from Trevecca Nazarene University in Nashville. She lives in Franklin, where she enjoys spending time with her three wonderful daughters.
Public Entity Partners take pride in tailoring our insurance programs to the unique exposures and loss control experiences of our members. The Underwriting department is responsible for writing the coverages our members depend on, as well as fairly and consistently pricing each policy. In any given year, the Underwriting team processes more than 1,400 polices for our Liability, Workers' Compensation and Property & Crime programs.
Our Underwriting team consists of regional underwriters, as well as an Assistant Underwriter, and an Underwriting Associate and Coordinator. From the systems that keep our data organized to the numerous phone calls, meetings and emails that each team handles each day, the Underwriting department has a strong legacy of excellence. That legacy, along with a commitment to stability and consistency, are the driving goals of this department.