Congratulations to Claims Staffers
Author | Halie Gallik
10/1/2021 9:00 am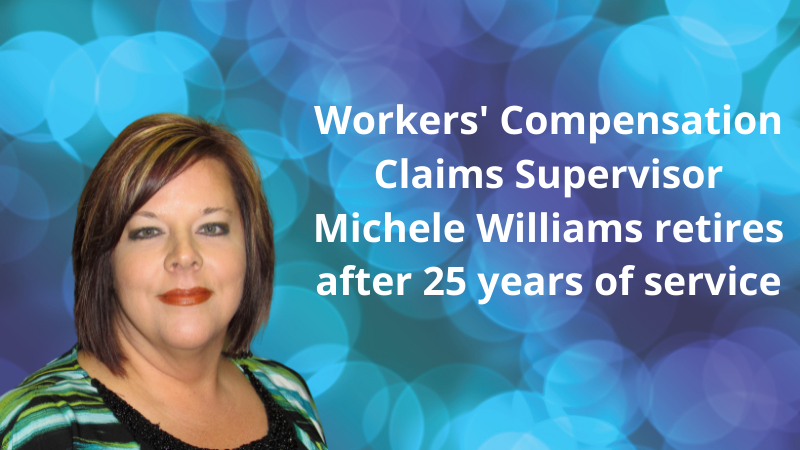 After 25 years of working with local government employees as part of Public Entity (PE) Partners' claims department, Michele Williams retired on September 30th. As the workers' compensation claims supervisor, Michele was responsible for the workload of each of the nine workers' compensation adjusters, in addition to working directly with claimants and members. PE Partners members who have had the opportunity to work with Michele know that she brings a sense of calm and consistency to everything she does.
Navigating the workers' compensation process after experiencing an on-the-job injury can be a challenge for a municipal employee. Experienced adjusters who are committed to helping employees can minimize stress and create a less daunting environment. Michele describes the adjuster team as a family, and has been dedicated to helping claimants through the workers' compensation process throughout her career.
"From our team members to the people we work with each day in cities and towns throughout Tennessee, the people make all the difference," Michele said. "I appreciate all the years that I have been able to be an adjuster. It is a challenging job, but I can't imagine doing it anywhere else. From police and fire to public works and teachers — our team is a support system for local government employees who provide critical services across the state. It has been an honor working here."
Under Michele's leadership, the workers' compensation adjusters have consistently demonstrated a commitment to excellence in claims administration, with the entire department completing the certified adjuster program offered through the Tennessee Bureau of Workers' Compensation.
Michele and her husband live in Lewisburg and plan to spend time with their four grandchildren, who range in age from eight months to five years.
Dawn Feinstein, an eight-year member of the workers' compensation adjuster team, has been promoted to workers' compensation supervisor, effective October 1st.
"Michele has worked so hard the last 60 days to make this transition seamless for me and the claims staff," Dawn said. "We have such a great team here and I look forward to working with every one of them. I'm excited about beginning this new chapter in my career, but we are all going to miss Michele."
As part of this transition, Annette Smith has joined the team as a workers' compensation adjuster. All injured employees and members who had open claims assigned to Michele have received a written notification of adjuster reassignments.
For contact information for our team members, including each workers' compensation adjuster, please visit our website.
Please help us congratulate both Michele Williams and Dawn Feinstein on their achievements.