Author | Halie Gallik
12/9/2021 7:00 am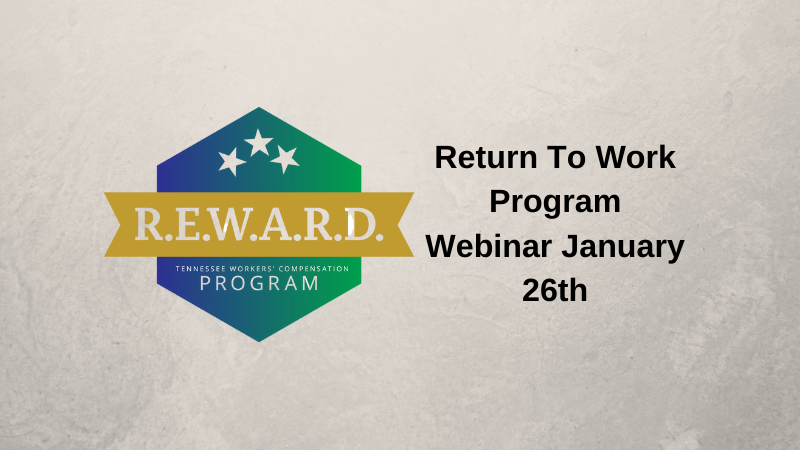 Workers' Compensation REWARD Program
Workers' compensation ensures that injured workers have access to medical care. It also covers wage replacement, depending on the amount of time an injured employee is unable to return to work. Successful workers' compensation programs are partnerships designed to keep employees safe and free from accidents and injury through risk management. In the event an injury or accident does occur, they also provide treatment so injured employees are able to return to work at or as close to their pre-injury conditions as possible.
The Tennessee Bureau of Workers' Compensation launched the REWARD program in 2019. This program, which is aimed at returning employees to work and reducing disabilities due to work-related injuries, offers an extensive toolkit designed to assist employers with their return-to-work program.
The toolkit emphasizes that each employer's needs are different when it comes to structuring a return-to-work program, and provides ideas for both large and small organizations. The complete REWARD toolkit is available on the Bureau's website.
The Bureau recommends several initial steps to take BEFORE an employee is injured to establish your return-to-work program. These include:
Committing to having a return-to-work program and communicating that program to your team

Designating a return-to-work coordinator

Establishing a positive relationship with your adjusters and others involved in claims

Establishing a panel of physicians that is also committed to helping your injured employees recover and return to work
Under the Tennessee Workers' Compensation law, employers are required to provide injured employees a panel of at least three physicians from which they can select to receive medical care. Having an up-to-date panel is not only a legal requirement, but it is also an important step in effectively managing your workers' compensation claims.
On Jan. 26, B. Jeff Francis with the Tennessee Bureau of Workers' Compensation will be presenting a webinar for PE Partners members, titled "Workers' Compensation Return to Work Programs." He will be sharing more details about the REWARD program, and how it can have a positive impact on your organization and injured employees. To register for the webinar click here.