Webinar - Tennessee Drug Free Workplace
Author | Heather Hughes
3/3/2022 7:00 am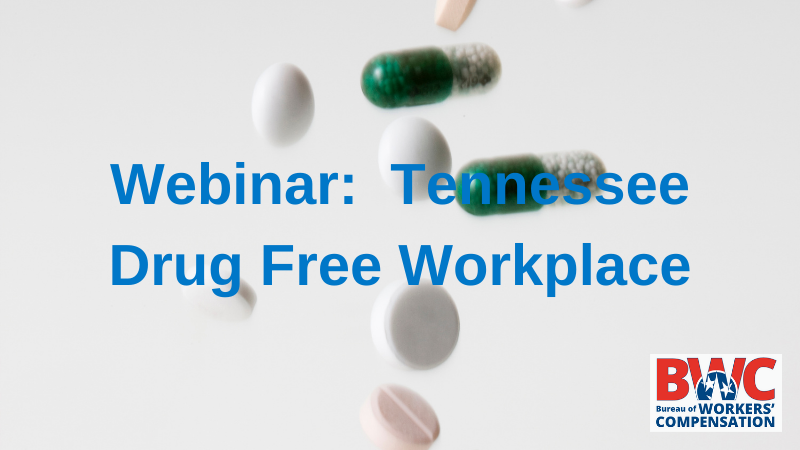 Tennessee Drug Free Workplace Webinar to be held March 30th
Public Entity Partners will present a webinar on the Tennessee Drug Free Workplace Program on March 30th at 1 p.m. CST/2 p.m. EST. This webinar will be hosted by Lance Wheaton, program coordinator, Tennessee Department of Labor and Workforce Development, Drug Free Workplace Program.
The Tennessee Bureau of Workers' Compensation started the Tennessee Drug Free Workplace program as a proactive prevention program aimed at curbing the use of drugs and alcohol in the workplace.
The following statistics show how drug and alcohol use can affect the workplace[1]:
Sixty percent of the world's production of illegal drugs is consumed in the U.S.

Nearly 70% of current users of illegal drugs are employed.

Nearly 1 in 4 employed Americans between the ages of 18 - 35 have illegally used drugs.

One-third of employees know of the illegal sale of drugs in their workplace.

Twenty percent of young workers admit using marijuana on the job.
Workplaces where workers are not impaired by drugs and alcohol are safer worksites that result in fewer injuries and accidents. In addition, employers who implement the Tennessee Drug Free Workplace Program are eligible for a 5% discount on their Workers' Compensation premiums at Public Entity Partners. For questions about how you can receive the 5% discount on your workers' compensation policy, please contact your underwriter (please refer to the underwriter contacts below this article).
The March 30th webinar will teach you how to participate in the program, what documentation you will need, and how you renew your participation each year. If you would like to register to participate in this free webinar, please CLICK HERE.
For questions about the Tennessee Drug Free Workplace webinar or other Public Entity Partners webinars, please contact Heather Hughes at hhughes@PEpartners.org or 800-624-9698.
---
[1] 'Working Partners', National Conference Proceedings Report: sponsored by U.S. Dept. of Labor, the SBA, and the Office of National Drug Control Policy.