Excellence in Risk Management Awards
Author | Carly Salah
9/12/2023 7:20 am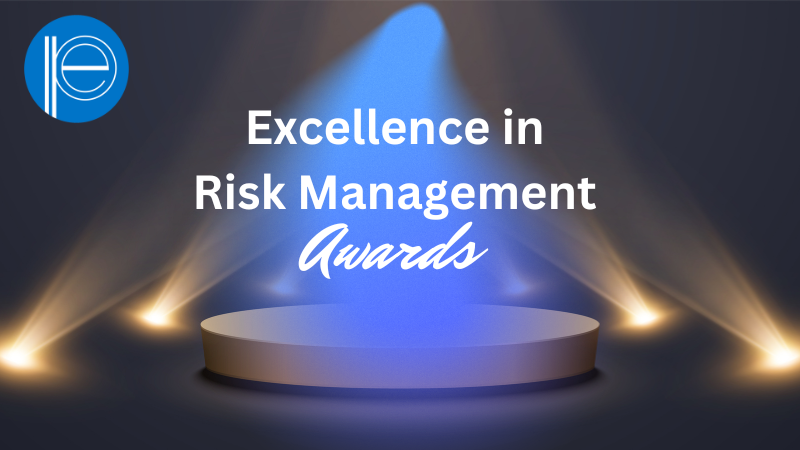 One of the highlights of every Symposium is the Excellence in Risk Management Awards Luncheon, when we gather to acknowledge individuals, departments, cities and towns, and recognize their invaluable contributions to risk management and the far-reaching impacts they have on their communities.
Our award recipients represent the epitome of excellence, innovation, creativity, and unwavering commitment to providing unparalleled safety and risk management programs within their entities. Their efforts transcend mere routine; they exemplify the spirit of risk management as a fundamental tool to ensure the safety of our staff, communities, and the precious public resources entrusted to our care.
The 2023 Excellence in Risk Management Award winners are: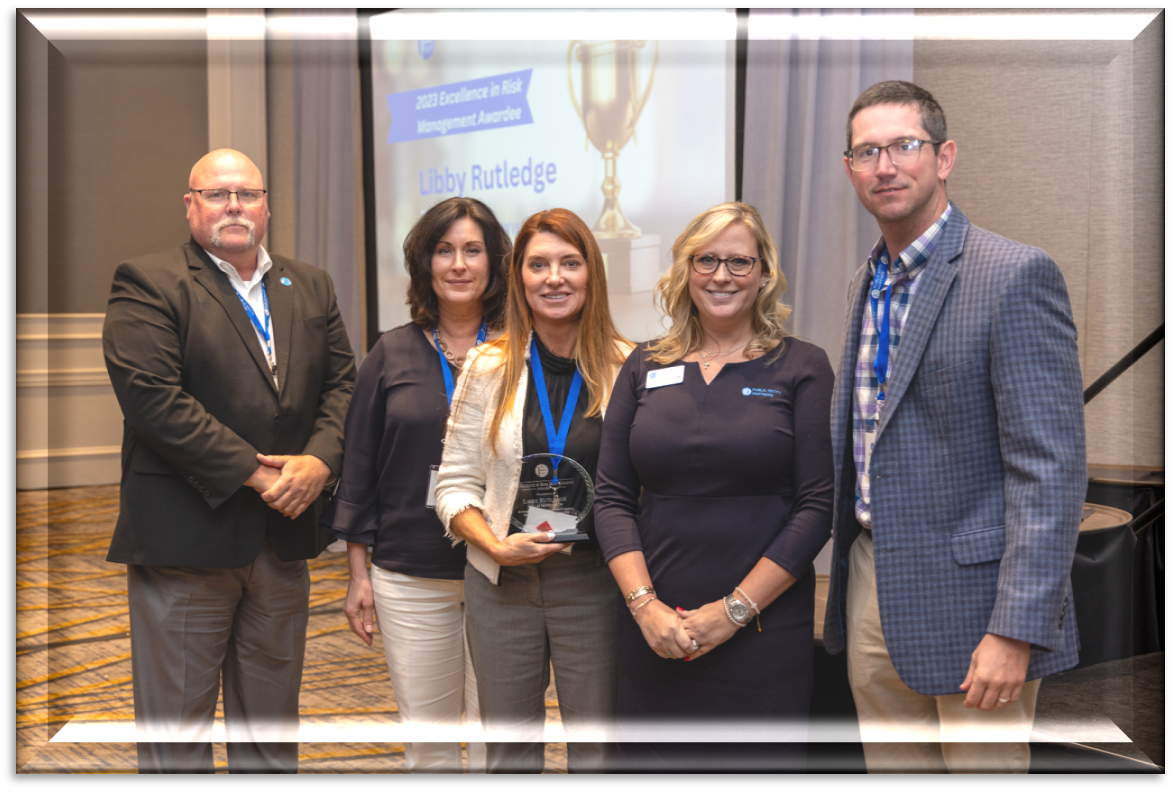 Libby Rutledge, City of McMinnville
Nominated by Jim Bell Hatchel
Libby's leadership has led to the successful implementation of a building maintenance program that boasts an extraordinary loss ratio of less than 15%. Maintaining more than 120 properties while achieving a claim-free record over the last two policy terms is a testament to her dedication to safety and resource management. Under Libby's stewardship, the City of McMinnville has set a remarkable standard in preserving public resources while enhancing the well-being of its community.
"The City of McMinnville is committed to keeping employees safe, reducing our liability exposures and safeguarding our public resources. We strive to provide a high level of service to our residents, without sacrificing the safety of our staff or our community. We are equally committed to providing safe facilities for the use and enjoyment of our community. Libby has spearheaded our efforts over the past few years to ensure that we are meeting our commitments through loss control, employee development and organizational professionalism. Our staff members have stepped up to the challenge as well and we couldn't do it without them. Thank you so much, Libby and staff, for your hard work and dedication to keeping our community, facilities, employees and public resources safe."
– Nolan Ming, City Administrator, City of McMinnville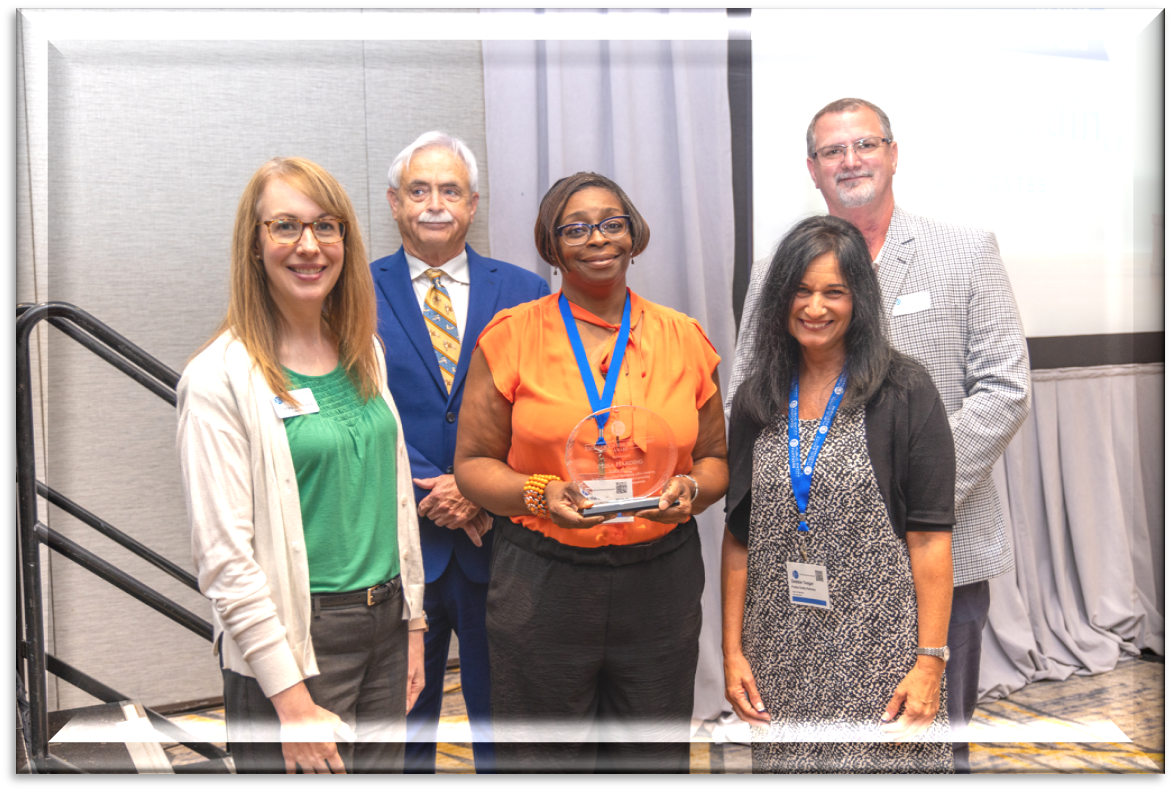 Lisa Harding, Town of Gates
Nominated by Debbie Yeager and Paul Chambliss
Lisa's impact on the Town of Gates is nothing short of transformative. Her journey from completing the Certified Municipal Finance Officer (CMFO) program to spearheading risk management projects underscores her commitment to employee and community safety. Lisa's contributions to library improvements have opened the doors of educational opportunities, benefiting both employees and the community. Her passion for risk management shines through her proactive approach, exemplifying how innovation can drive positive change.
"Lisa has a passion for risk management and continues to review the Town of Gates' current risk management programs to stay proactive in safety prevention. The city has very low/minimum claims experience and there is no adversity under her leadership. She attends and supports PEP's Risk and Insurance Symposium annually and has attended the PRIMA Institute. Lisa also attends PEP's West Tennessee TnPRIMA roundtable meetings regularly to obtain education and knowledge for enhancing current risk management programs, and/or to develop policies/programs for promoting safety among their employees and community."
– Debbie Yeager, PEP's West Tennessee Member Services Representative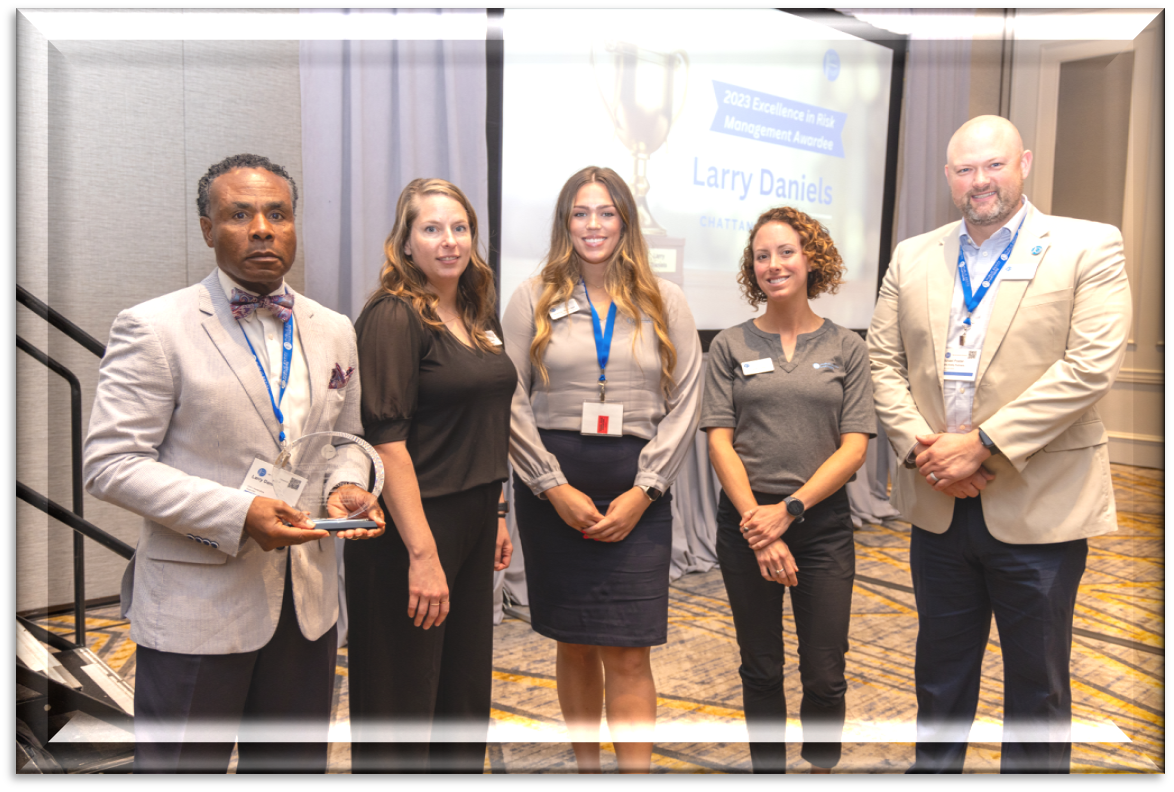 Larry Daniels, Chattanooga Housing Authority
Nominated by Judy Housley
Larry's visionary approach to addressing skilled labor shortages is both remarkable and inspirational. By creating a training facility that equips maintenance workers with a broad skill set, Larry not only elevates their expertise, he also significantly reduces liability exposure for his organization. His dedication to enhancing professionalism and knowledge showcases his commitment to excellence, ultimately setting a new standard for the entire industry.
"Larry Daniels has been a steadfast advocate and tireless driving force for property maintenance excellence at the Chattanooga Housing Authority for many, many years. His exceptional motivation and commitment to mentor our up-and-coming technicians, and foster robust and attractive career paths for the skilled maintenance trades, have resulted in our maintenance training center, which we believe is filling a critical gap in the educational spectrum for these types of job functions. With Larry's leadership, we are looking forward to the further development of this initiative, bringing in more types of trades, skills and teaching to further CHA's mission and our employees."
– Mike Sabin, Director of Public Housing, Chattanooga Housing Authority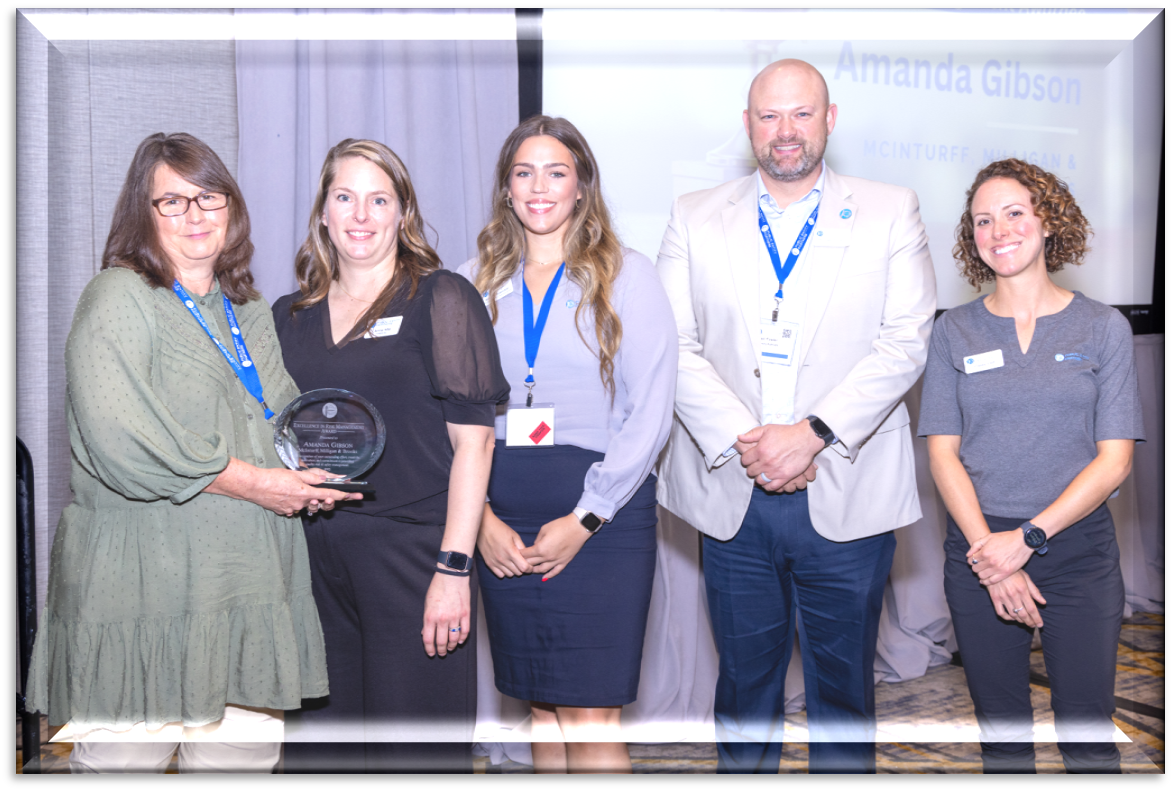 Amanda Gibson, CSR – Business Insurance, McInturff, Milligan & Brooks
Nominated by Callie Westerfield and Patsy Fuller
Amanda's role as a local agent extends far beyond a mere job description. Her tireless efforts to promote risk management and educate members about grants and scholarships have made a profound impact. Amanda's holistic approach, combining education, training and policy advocacy, is a testament to her commitment to reducing risk and fostering a culture of safety. Her dedication sets an inspiring example for all within our industry.
"I would like to make a recommendation for the Excellence in Risk Management Award. The Town of Greeneville's insurance broker, Amanda Gibson, is the human resources main contact for insurance and risk management issues we may have at any given time. Amanda has shown a dedication to serving us, with a vast amount of knowledge and fast responses. She is always right on whatever task it is with a smile and a positive attitude."
– Patsy Fuller, Human Resources Director, Town of Greenville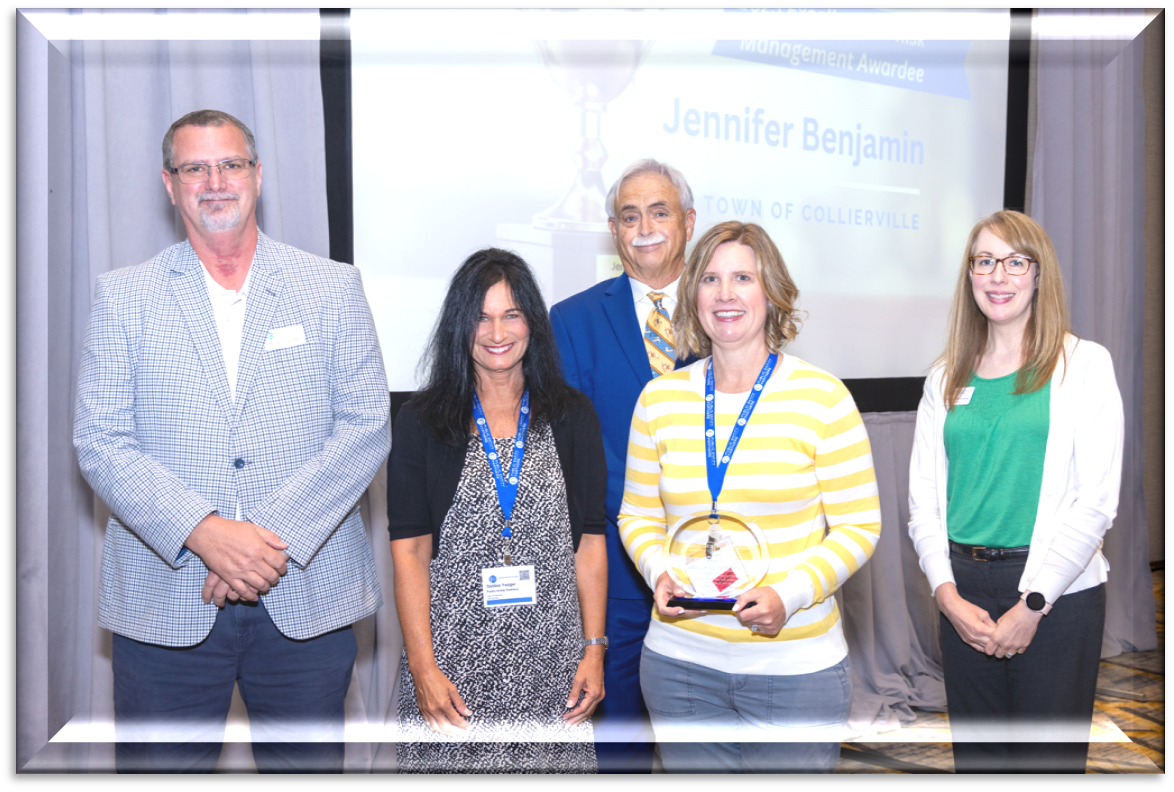 Jennifer Benjamin, Risk Management & Safety Coordinator, Collierville
Nominated by Andy Lacewell
Jennifer's approach to property loss prevention is a testament to her commitment to safety. Achieving a property loss ratio of 10.4% reflects her unwavering dedication to making her community safer. Her devotion to continuous learning, active engagement with experts and proactive risk mitigation showcases her professionalism and dedication to fostering a safer environment for all.
"Jennifer has been proactive in taking on the role of Risk Management & Safety Coordinator for a city of 52,000 people. She leads their safety committee in regular inspections of city facilities to ensure they are safe for the public and to minimize the risk of property loss. She works very closely with PE Partners' loss control consultants to identify and mitigate potential liability and property risks throughout the city."
– Andy Lacewell, PEP's West Tennessee Property Conservation Consultant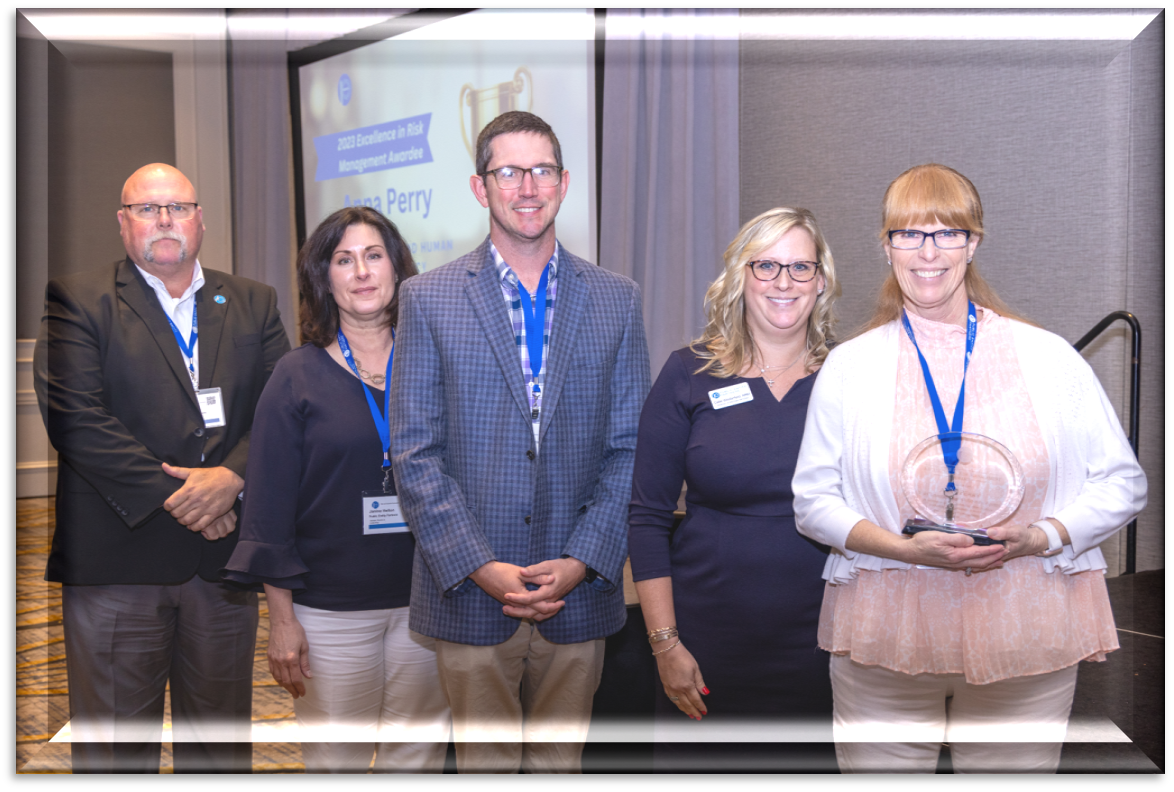 Anna Perry, Transportation Director, Mid-Cumberland Human Resource Agency
Nominated by Chester Darden
Anna's journey from starting as a driver to the Transportation Director is a remarkable testament to her dedication and compassion. Her leadership in reducing liability and workers' compensation claims over the past three years, even during a pandemic, is truly commendable. Anna's commitment to education, dedication to her community and exceptional leadership qualities have had a profound impact, making her an inspiration for risk management professionals.
"Under Anna Perry's leadership over the past three years, the Mid-Cumberland Human Resource Agency has seen a 90% decrease in the severity of liability claims and an 88% decrease in the frequency of liability claims. In addition, during the same time period, the organization has seen an 88% decrease in the severity of workers' compensation claims and a 57% decrease in the frequency of workers' compensation claims."
– Chester Darden, PEP's Director of Loss Control
To our esteemed award recipients, we at PEP offer our congratulations. May your dedication and contributions continue to shape a safer and more secure future for us all. Thank you for your unwavering commitment to the communities that you serve. Here's to the celebration of excellence and the promise of an even safer tomorrow.