Meet Callie Westerfield - Middle Tennessee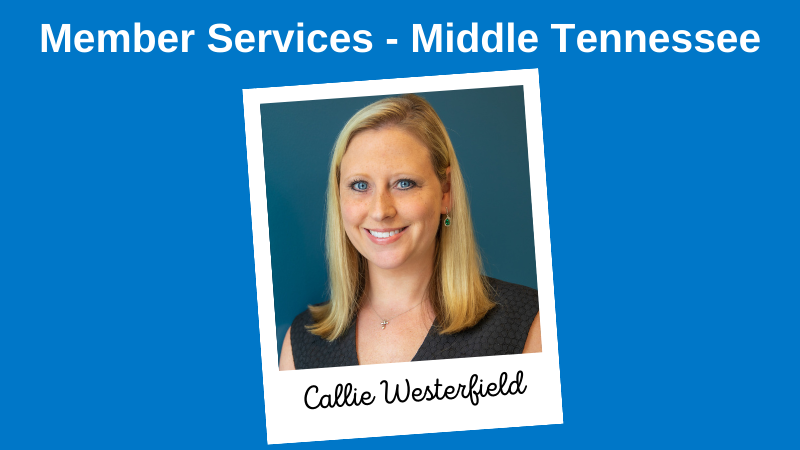 Callie Westerfield - Member Services Director - Middle Tennessee
Since 2018, Callie Westerfield has served as PE Partners' director of member services for Middle Tennessee. She assists members by sharing information on PEP's programs and services, helping with renewal applications, working with the underwriting and loss control departments on members' behalf, helping members understand their insurance coverages, and acting as a liaison between the membership and the home office. She is the first line of service for Middle Tennessee members' risk management and insurance needs.
Callie is a seasoned marketing and member services professional, with experience in governmental risk pooling, local government, safety training, and commercial lines of property and liability insurance. She joined PE Partners in 2015 as a Middle Tennessee member services representative, and earned her Associate in Risk Management designation while working at PEP. She previously worked in insurance services for the Kentucky League of Cities (KLC), then moved into the role of marketing agent for KLC for several years. During this time, she worked with KLC members to assist with their insurance and training needs, placing new business with the insurance pool as well as marketing the various programs and services offered by KLC and the Kentucky League of Cities Insurance Services (KLCIS).
"Public service is what I'm truly called to do," Callie says. "Working with our members across the state of Tennessee is a privilege for me. I love being able to share my knowledge of risk management with our members, and I hope that in doing so, I can help create a safer environment for our local governments and their employees."
Callie was born and raised in College Hill, Kentucky, and is now a resident of Brentwood, Tennessee. She is a graduate of the University of Kentucky (UK), where she earned a bachelor's degree in integrated strategic communications, with a minor in sociology. She is a sustaining member of the Junior League of Nashville and a die-hard UK sports fan. Callie loves spending time with her husband, Christopher, and their daughter, Ada, along with traveling, watching UK sports, and playing with their English bulldog, Dolly Belle.
If you would like to contact Callie, she may be reached at CWesterfield@PEPartners.org or 615-371-6022.