Property Conservation Grant Applications Available
Author | Heather Hughes
10/6/2022 5:30 am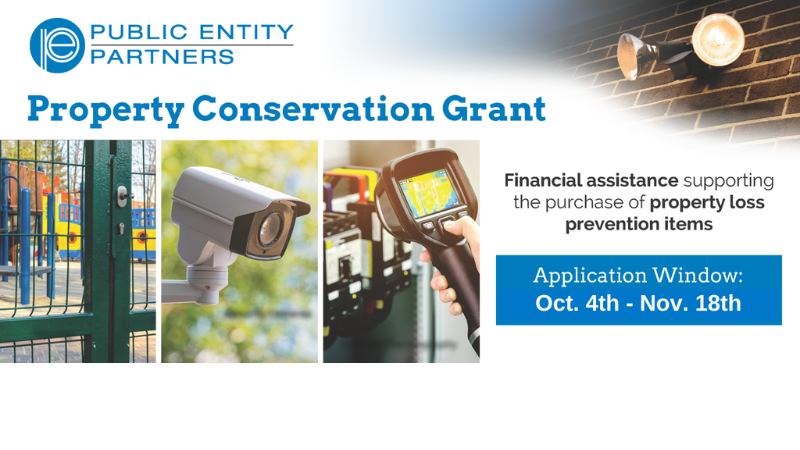 As stewards of public tax dollars, our members are tasked with protecting and preserving public facilities. While property coverage can protect you in the event of a loss, taking steps to reduce the severity or frequency of a property loss is sound risk management. The Property Conservation Grant provides funding for the purchase of property loss prevention and control items.
Applications are currently being accepted through November 18th for this 50% matching grant. Applicants are encouraged to review all program criteria and guidelines. Public Entity Partners will reimburse up to 50% of the cost of approved property conservation items, with a maximum reimbursement based on your organization's classification matrix rating.
Some of the eligible equipment items this grant supports include:
S

ecurity cameras and fencing

Lightning attenuation systems

Protective steel bollards for reducing motor vehicle damage to facilities

Infrared thermography

Sprinkler head protective cages
Grant funds may also be used for recommended loss prevention/control items identified by:
Property conservation loss control surveys

Transformer oil and gas testing recommendations to electric utilities generated by a transformer oil or gas analysis (TOGA) program

Deficiencies or maintenance recommendations generated by infrared thermography inspections
Grant applications must be completed no later than November 18, 2022. Grants will be awarded on a first-come, first-served basis. Please CLICK HERE to begin the application process.
The Public Entity (PE) Partners Grants & Scholarships Program invests in training, education and equipment to keep our public entity employees protected and help safeguard public resources. For more information about PE Partners' Grants and Scholarships Program, please CLICK HERE or contact:
Tahtia Mitchell
Grant & Scholarship Program
TMitchell@PEPartners.org
800.624.9698