PE Partners Names New Vice President
Author | Halie Gallik
5/5/2021 6:00 pm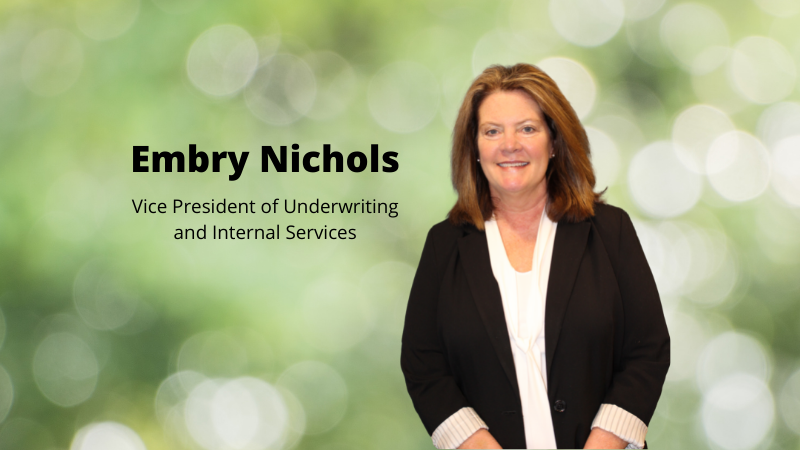 PE Partners Names New Vice President of Underwriting and Internal Services
Public Entity Partners has been fortunate to include top-notch underwriters on our team to grow and strengthen our programs. Most notably, we were privileged to work with Jon Calvin in his role of Vice President of Underwriting and Internal Services until his passing last month. While Jon's passing has been difficult for our team, the position in which he served is very critical to our organization, and we knew that finding the right candidate to fill that role was important for carrying out our mission and fulfilling our commitment to serving our members.
Last September, when our Board of Directors conducted a national search to select a President / CEO who could lead Public Entity Partners into the future, they reviewed more than 100 resumes and interviewed the top four candidates. While Michael G. Fann was selected as the President / CEO, Embry Nichols was one of the top candidates.
Embry demonstrates a commitment to governmental pooling, a team focus, and a vast understanding of the reinsurance and underwriting field. Her professionalism and knowledge make her a clear choice for the Vice President of Underwriting and Internal Services position, and we are pleased to announce she joined our team on May 3rd.
"I am delighted to begin my new position at Public Entity Partners, and I look forward to getting to know and serving our members across Tennessee," Embry said. "My passion is helping pools and their members as they serve their communities. I am a firm believer in the power of pooling, and the relationships that are created go far beyond simply providing insurance. When we can solve a problem for a member, no matter how small, we strengthen our partnership."
Embry has worked in the insurance industry for the past 30 years, and has focused almost exclusively on pooling throughout her career. She has extensive experience in reinsurance, captive formation, underwriting, member services, and advocating on behalf of clients for large and complex claims. In her most recent role as a senior vice president of public entity pooling, she worked extensively to restructure a property and crime reinsurance renewal to eliminate coverage restrictions and price the renewal within budget.
"Public Entity Partners is focused on making sure we keep the best interests of our members at heart as we carry out our mission and vision," Fann said. "Embry Nichols brings a phenomenal amount of underwriting, reinsurance and project management experience that will help our team as we move forward from the loss of Jon Calvin — and as we work to make a difference in the lives of Tennessee public entity employees and the citizens they serve. While it is impossible to replace Jon, I know Embry will be a tremendous asset to our team."
Embry is a graduate of Middle Tennessee State University, with bachelor's and master's degrees in Business Administration. In addition, she has also earned her Chartered Property and Casualty Underwriter (CPCU) and Associate in Risk Management designations, and is a Licensed Tennessee P&C and Surplus Lines Agent.
A lifelong Tennessee resident, Embry serves on the boards of directors for several nonprofits and is an active member of the Harpeth Community Church (Franklin) Volunteer Leadership Committee. She and her husband of 32 years, Tracy, are the parents of two children, Morgan, who works for a local physical therapy group in patient services, and William, who just graduated college and is a member of the National Guard. Embry also enjoys gardening and traveling.
Please join us in welcoming Embry to her new role at PE Partners!