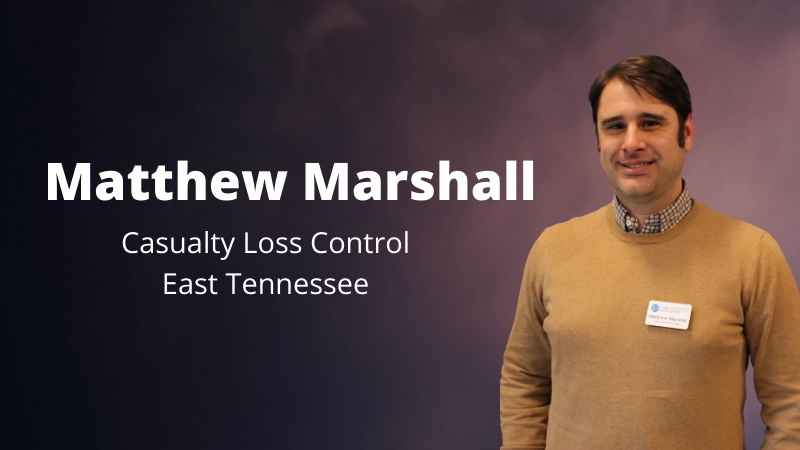 Matthew Marshall joined Public Entity Partners on April 16th as our East Tennessee Casualty Loss Control Consultant. As a casualty loss control consultant, Matthew will work with members to implement risk management best practices and make recommendations to keep employees safe, safeguard public resources, and reduce losses.
As part of the loss control team, Matthew will be able to draw on his experience working with public entities in roles including purchasing, risk management, and city management with the City of Athens, City of Norris, and the Knoxville Utilities Board.
Judy Housley shared, "I began working with Matthew when he was with the City of Athens. I was consistently impressed with how he approached risk management and developed programs that helped make everyone in Athens a risk manager. One program Matthew developed that had a big impact was aimed at backing accidents for sanitation and fire trucks. Matthew designed a driving course and provided training for each of the drivers."
Matthew shared, "We took a Vanessa K Free EVOC course and modified it for the sanitation drivers. We also added some non-driving challenges including residential garbage cans in proximity to mailboxes to evaluate if the drivers were following the policies of the sanitation department. The course Matthew designed lead to a reduction in backing accidents but also lead to changes in departmental policies. In turn, Athens saw improved safety, a better understanding of department policy and less public funds being expended through automobile and general liability claims."
"I am looking forward to working with the east Tennessee members for Public Entity Partners. I've had the good fortune of working with different size entities and understand many of the challenges faced in local government." Matthew continued, "Whether its budget constraints, training needs, or emerging risks, I am committed to helping our members find risk management solutions that will work for them."
Matthew is a graduate of the University of Tennessee's Master's in Public Administration program and has also completed the Certified Municipal Finance Officer program. When not working, Matthew enjoys spending time with his wife, Amy and two children, Bennett (8) and Amelia (5) in their Knoxville, TN home.
Please feel free to reach out to Matthew at mmatthews@PEpartners.org or call at 865-346-9698.